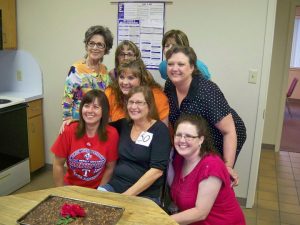 Janice Pinson (upper left) and her girls.
Just when you think it can't get any worse…
We, at the Wood County Appraisal District, are in shock over the death of our beloved Janice.  Janice went home to be with the Lord this past Saturday afternoon.
This story begins several months ago when Janice's son, Jade Allen, became ill.   About a two months ago Jade's condition worsened.  Janice spent many hours with him at the hospital and at hospice.  Sadly, Jade did not recover from his illness.  His funeral was two weeks ago tomorrow.  Janice was devastated over the loss of her only child.  She is such a trooper that she came back to work the following Wednesday.  Obviously, she was very distraught but she felt being back among her co-workers/family would help to maybe ease some of the pain.
Janice was the light of our office.  Despite the troubles that she may have had in her life, she was always more concerned about the troubles we might be having.  Rarely did a day go by that she didn't ask about my mom.  Janice was unable to attend mom's funeral as she sat with her terminally ill son.  That did not keep her from calling and offering her condolences.  At Jade's memorial service, as we passed by the casket bearing her son, she apologized for not being there for me.  That was Janice….even during the intense grief she was experiencing she took the time to make sure I was going to be OK.  AMAZING!!
Last Saturday night, I received a call from Alba Fire Chief Shawn Newland.  His words are forever etched in my memory….."Byron, Janice is missing."  My heart sank as I soaked in those words.  I could tell by the tone of his voice that it was serious.
 As I drove the 5 or so miles to her house, I prayed for her safety and recalled years worth of memories from the office.  Upon arrival I saw the men and women of several Fire Departments.  Emory, Alba and Quitman are the ones I recall being there….along with members of the Rains County Sheriff's Office.  They were coordinating a search of the area.  These professionals were urgently trying to find Janice.  As they did a ground search, a DPS helicopter was called from Garland to do an aerial search using infrared and visual aides.  The helicopter made an intense search but had limited fuel and had to return to base.  This did not deter the ground forces.  They searched until approximately 1 a.m. Sunday morning with no results.
After a few hours of restless sleep I returned to the scene to find exactly what I knew would be waiting.  These dedicated men and women were back on location continuing the search.  Young men from the ALERT Academy near Big Sandy had been called in to help.  They gathered their gear to do a grid search of the small lake behind the house.  Three divers entered the water in different locations around the pond.  Within an hour of entering the water, the worst fears of the family and friends became a reality.  Janice's body had been found.
The anguish and heartbreak of her family and friends was almost more than one could bear to witness.  As the realization of what had happened began to sink in I dreaded what I had to do next.  I had to call the office staff and tell them that our friend, our family member had been found.  I don't recall who I called but they said they would spread the word to the others.
We have all worked through this week in a trance, unable to comprehend that Janice wasn't answering the phones for us.  She wasn't there to make sure we were alright.
I would like to thank the citizens of Wood County, Texas for the calls of support and for helping us through this time of grief.
Janice's memorial service will be Saturday morning at 10:30 @ Wilson-Bartley Funeral Home in Alba.  A private burial will be held later where Janice will be buried by her beloved son.
Please pray for her family tomorrow and pray for her extended family of 12 years.
Rest in Peace…Janice.
May GOD Bless..
Byron
Link to Janice obituary:  http://www.lbcalba.com/FuneralNotice.html