Allison Cole
February 13, 1994 – May 15, 2015
On the night of May 8th, the Cole, Derryberry, Stinson families received the "nightmare" phone call that all parents fear.  Their precious Allison (Allie) had been in a horrible automobile accident.  She had been transported to the hospital in extremely critical condition.  Friends, family, church family and concerned people rallied around this family for support and prayers.  Social media was filled with well wishes.  Allie lived another week before graduating to her heavenly home.
I never knew Allie personally.  I had watched her play softball a few years ago.  From reading all the Facebook post I felt, as if, I had known her.  There is a connection from the past.  Her granddaddy, Steve Stinson, was my freshman basketball coach.  That was more years ago than he or I would care to admit.  I have considered Coach Stinson to be a friend for all these years.  I've know Allie's mom, Stefanie, since she was just a baby.  When tragedy strikes a young person it always has an affect on a community.  Knowing the family for so many years made this one tougher than most.
The pain of losing a child is indescribable.  You cannot imagine it unless you have experienced it.  I have a heart for those who find themselves in this situation.  Try as you might and as much as you wish you could, you cannot ease their pain.  I've had many people ask me what to do or say for someone who has lost a child.  The only advice I can give is to tell them you love them and give them a great big hug.
I'm writing this, not to sadden the family but to offer hope and encouragement to Stefanie and the rest of Allie's family.  The greatest hope a parent can have is that their child's death will in some shape, form or fashion have a positive affect on just one person.  Just one person who comes to the realization that this life is short and we are not guaranteed one more second.  If Allie touched just one person…..possibly caused someone to turn their life around….her tragic death would not be in vain.
So many pictures were posted on the internet.  These pictures reflected a beautiful young lady, with a gorgeous smile and an infectious personality.  She loved sports…..was a gritty softball player so I have to include my favorite picture of all.  Just love it and it kind of says it all about her love for the game mixed with being a lady.  Here it is: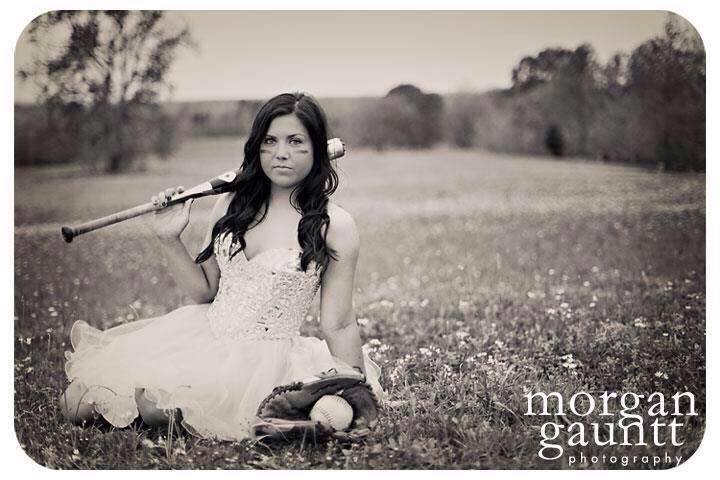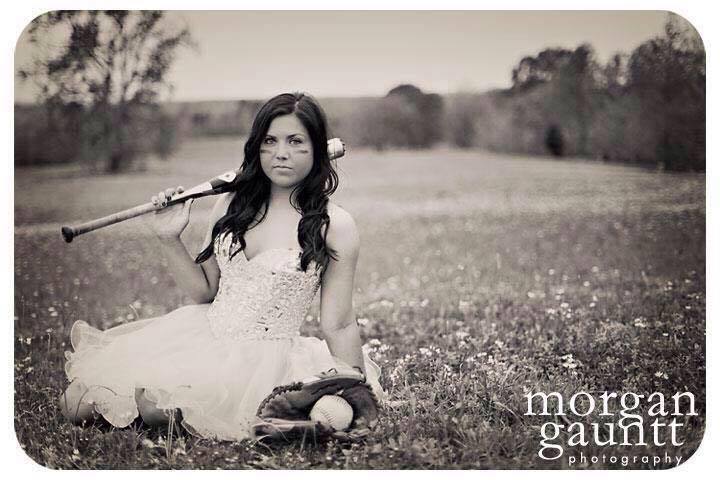 I've watched Stefanie be as strong as a mother can be.  Even with all the pain, she has trudged forward with the realization that her loss is heaven's gain and that life on this earth must go on.
I'm reminded of King David when his child died.
2 Samuel 12:21-23
Then his servants said to him, "What is this that you have done? You fasted and wept for the child while he was alive, but when the child died, you arose and ate food."
22 And he said, "While the child was alive, I fasted and wept; for I said, 'Who can tell whether the LORD will be gracious to me, that the child may live?'
23 But now he is dead; why should I fast? Can I bring him back again? I shall go to him , but he shall not return to me."
This is such a great promise from God.  Life didn't end for Allie on May 15, 2015.  Yes, her earthly life ended but her eternal life has just begun.  Her family has a wonderful promise that one day there will be a great reunion.  No doubt Allison will be waiting at the Gates of Heaven with Jesus.
I read a post today from Allie's mom.  It shows where Allie inherited her compassion for other.
Here is Stefanie's post;
Last night I had the privilege of talking to Tony Steele on the phone, he is the man that hit the car Allie was driving. This man has struggled very badly with what happened, and I'm just pleased I was able to help lift some of his burden off him. He told me how Allie had changed his life just in their very brief meeting, he is now back in church and his family is bonding closer than ever before. He tells me he sees her everywhere. He told me that everyone that stopped that night on the side of the road worked very hard to save Allie, and the last thing they heard as the ambulance doors shut was…we have a pulse…he said everyone just huddled in a circle, people who did not know each other at all, including the DPS officer, and prayed and prayed for her! To know that Allie had such love and support that night is so important to me, Tony, Danny Ray Harris, Judy Pendergraft, and the DPS officer as well and the EMTs will be in my heart forever!!! You all gave me one extra week, that I will hold dearly in my heart forever!!! Just look at my ALLIE touching and changing lives just like she always wanted to do!!!!!!
Simply beautiful.
May GOD Bless your family,
Byron